We are currently running eight Walking Football sessions at the Solihull Football Centre:
​
13.30-14.45 Mondays - For players aged 50 and over
19:30-20.40 Mondays - Ladies only
11:30-12:25 - Tuesdays - All ages - Walking Football Drills
12:30-13:55 - Tuesdays - All ages - 3 Touch Walking Football
10:00-11:15 - Wednesdays - For players aged 70 and over
11:30-13:00 - Wednesdays - For players aged 50 and over
14:00-15:15 Wednesdays - For players aged 60 and over
11:00-12:30 Thursdays - For players 65 and over
13:30-14:45 Thursdays - For players aged 60 and over
09.30-10.45 Fridays - For players aged 50 and over
​
Sessions are £5.00 per person (DISCOUNTED FOR BOWLS CLUB MEMBERS ONLY - Membership details see Solihull Indoor Bowls Club)
​
WE POLITELY ASK ANYONE INTERESTED IN TRYING OUT WALKING FOOTBALL FOR THE FIRST TIME TO CONTACT US BEFORE ATTENDING SESSIONS TO AVOID THEM BECOMING OVER SUBSCRIBED. CERTAIN SESSIONS ARE AT CAPACITY AND UNEXPECTED INCREASED NUMBERS REDUCES ENJOYMENT OF THE GAME. PLEASE CALL AHEAD TO CONFIRM AVAILABILITY ON 0121 796 1330 THANK YOU.
​
​
​
​
​
​
​
​
​
We have a NEW BOOKING SYSTEM! (Sessions are currently limited due to COVID restrictions)
To book onto a session please click HERE
​
How to book a place on a session
How to cancel your place if you cannot come (Can only be done up to one hour before session start time or you will be liable for session payment)
​
​
We also a number of sessions at our pitch in Hall Green! Click the logo below for further details
​
Solihull Walking Football Centre proudly boasts the worlds first 4G Astro surface specifically designed for walking football. With the increased popularity of the UK's fastest growing sport we felt it was time to use our experience to design what we feel caters for the competitive needs of walking football.
​
Currently, competitive walking football matches and tournaments are played across the country on a multitude of different surfaces and pitch sizes. Teams sometimes struggle to find appropriate venues with the correct pitch parameters in accordance with walking football rules. D's which are too large or too small, poorly sized goals and incorrect placing of penalty spots are just some of the pitch issues that are all too common.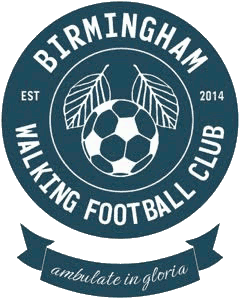 Solihull Walking Football Centre is the home of Birmingham Walking Football Club. Our 6/7 a-side walking football championship pitch consists of a lined 38m x 31m playing surface, 5.5m Ds, 6m penalty spot, and 12ft x 4ft goals. With super rebound fencing installed, playing off barriers is available if preferred.
​
The state of the art 4G Tiger Atomic 60 FA/FIFA recommended pitch is currently one of the best products on the market and has shock absorber qualities for safer play. The turf has high levels of comfort and performance perfect for all levels of Walking Football.